Do you have a dream? Learn how crowdfunding can be a means to turn an idea into reality.
May 08, 2013 -
For many small business owners, gaining access to funds can be a challenge. Luckily, in today's tech-obsessed world,
crowdfunding
is a viable option to raise capital. Put simply, crowdfunding allows start-ups to raise small amounts of money from investors via social media-driven platforms.
So, who can benefit from this innovative fundraising model? The answer: Businesses from almost every industry that have an established consumer base and can demonstrate the potential for growth. These folks should take a closer look at this funding model.
One caveat is in order. Those engaging in this activity must come to terms with the fact that the business will have multiple owners. That's because those who invest in the business will have a stake in it and that's why this model calls for greater transparency. Expect more open conversation than one would find when seeking traditional funding from a lender. As investors want to feel confident in the level of risk exposure, be ready to address that criticism.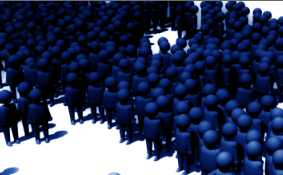 Speaking of investors, it's critical to do your homework to attract and retain capitalists. Create a business plan that crunches the numbers — both for budgeting purposes as well as projecting prospective growth. Be sure to mention what is noteworthy about your business, and what would make it a great choice for potential investors. Once the plan is written, update it once or twice a year.
Also think about what you will give your potential investors. How much equity are you willing to surrender to raise startup funds? Will you provide an exit strategy?
Crowdfunding is an excellent choice for capitalizing innovative ideas and connecting with others who share your passion for creating a new business. Go for it!